<![if !supportEmptyParas]> <![endif]>
Saudi Arabia, a hoard of civilisation
<![if !supportEmptyParas]> <![endif]>
Saudi Arabien, ein Hort der Zivilisation
<![if !supportEmptyParas]> <![endif]>
<![if !supportEmptyParas]> <![endif]>
In Saudi Arabia, a woman of Burmese origin was beheaded in the street in January, 2015. She had been sentenced because of having murdered her 7 years old stepdaughter. She is crying: "I did not kill!"
<![if !supportEmptyParas]> <![endif]>
In Saudi Arabien wurde eine Frau im Januar 2015 auf offener Straße geköpft. Sie war wegen Mordes an ihrer 7jährigen Stieftochter verurteilt worden. Sie schreit: "Ich habe nicht getötet!"
<![if !supportEmptyParas]> <![endif]>
Film:
<![if !supportEmptyParas]> <![endif]>
<![if !vml]>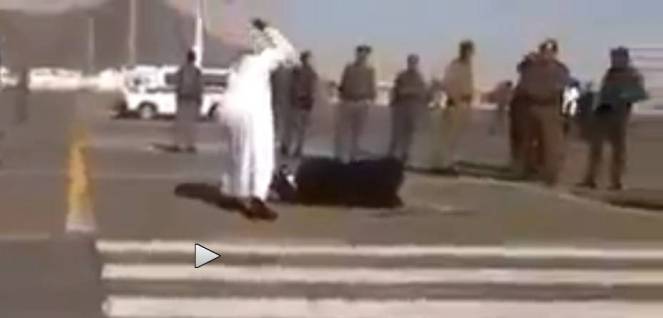 <![endif]>
http://www.liveleak.com/view?i=b89_1421360015 and http://www.israelvideonetwork.com/woman-beheaded-in-broad-daylight-in-moderate-muslim-nation-while-police-watch/
<![if !supportEmptyParas]> <![endif]>
Report:
<![if !supportEmptyParas]> <![endif]>
15.1.2015 – Vice News
Gruesome footage circulating on social media shows Saudi authorities publicly beheading a woman in the holy city of Mecca earlier this week. The execution is the tenth to be carried out in country in the last two weeks; setting 2015 up to be even more bloody than last year, when 87 people were punitively killed by the state.
Rare video of Monday's killing shows the woman, a Burmese resident named as Lalia Bint Abdul Muttablib Basim, screaming while being dragged along the street. Four police officers then hold the woman down before a sword-wielding man slices her head off, using three blows to complete the act.
In the chilling recording, Bashim, who was found guilty in a Saudi Sharia court of sexually abusing and murdering her seven-year-old step-daughter, is heard protesting her innocence until the very end. "I did not kill. I did not kill," she screams repeatedly.
Beheading is widely seen in the country as the most humane means of executing but death by stoning, crucifixion, and death by firing squad is also carried out – by Harriet Salem
https://news.vice.com/article/woman-is-publicly-beheaded-in-saudi-arabias-tenth-execution-of-2015
<![if !supportEmptyParas]> <![endif]>
<![if !supportEmptyParas]> <![endif]>
Two other cases from this year in April  – Zwei weitere Fälle aus diesem Jahr im April:
<![if !supportEmptyParas]> <![endif]>
April 15, 2015 – International Business Times
Siti Zainab: Saudi Arabia beheads 'mentally ill female domestic worker' angering Indonesia
Saudi Arabia has beheaded an Indonesian woman with a suspected mental illness accused of killing her reportedly abusive employer, in a move that drew the anger of Jakarta and rights groups.
Amnesty International denounced the beheading as the latest in a "recent macabre spike in Saudi Arabia's state-sponsored killings", adding it was against international law to put to death a convict possibly suffering from mental ailments.
Zainab, a domestic worker, was sentenced to death in 1999 after she confessed to stabbing to death Saudi woman Noura al-Morobei, who was described in the Saudi press as her employer.
Amnesty said sources in Indonesia claimed the woman had been mistreated at work and denounced the alleged cruel behaviour of al-Morobei and her son in two letters.
Indonesian NGO Migrant Care went further, claiming that Zainab was actually acting in self-defence when she fatally stabbed al-Morobei 18 times.
"She had no legal representation at any stage and did not have access to a consular representative during the police interrogation when she had made her 'confession'," Amnesty said. "According to reports, the police suspected that she suffered from mental illness at the time of the interrogation." – by Umberto Bacchi
http://www.ibtimes.co.uk/siti-zainab-saudi-arabia-beheads-mentally-ill-female-domestic-worker-angering-indonesia-1496492
<![if !supportEmptyParas]> <![endif]>
April 18, 2015 – International Business Times
Indonesian woman beheaded in Saudi Arabia for murder of 4-year-old girl
Saudi Arabia has executed an Indonesian domestic worker just days after beheading another woman from the country.
Karni binti Medi Tarsim was convicted of murdering a four-year-old girl in 2012, according to a statement from the Indonesian foreign ministry.
Officials say the 37-year-old stabbed a four-year-old boy to death in the city of Yanbu in 2012. The victim's family refused to have her sentence commuted as they are entitled to do under Islamic law – by Fiona Keating
http://www.ibtimes.co.uk/indonesian-woman-beheaded-saudi-arabia-murder-4-year-old-girl-1497123
<![if !supportEmptyParas]> <![endif]>
Anyway, all that is nothing new:
<![if !supportEmptyParas]> <![endif]>
9.10.1995 – The Independent
Secret Saudi executions shame the West
Robert Fisk, Middle East Correspondent, reveals a frenzy of beheadings in the first of a series on women victims of Gulf 'justice'
Amid a frenzy of executions in the Arab Gulf states, at least 12 women have been put to death after Islamic trials, most of them publicly beheaded by the sword in Saudi Arabia. The majority of the executions were kept secret from all but spectators for fear of public reaction in the West, and followed unfair hearings which often denied the women a defence lawyer.
Among the more shocking cases over the past three years were a mother and her daughter who were decapitated together in front of an audience of men in a Dhahran market last August for allegedly killing the elder woman's husband.
In most cases, the condemned women - who include not only Saudis but Filipina, Sri Lankan, Nigerian, Indonesian and Pakistani nationals - were taken from their prisons to be beheaded, without warning that they were about to meet their death. …
The nature of the Islamic trials and the cruel methods of execution call into question the morality of the West's military and political support for Saudi Arabia and other Gulf states whose supposedly civilised values were defended by 500,000 US, British and other Western troops after Iraq's invasion of Kuwait in 1990. Not a single Western embassy, however, is known to have protested at the beheading of women - nor at the increasingly ferocious lashing of hundreds of foreign female workers in the Gulf for alleged misdemeanors. …
Several of the executed women appear to have been deeply mentally disturbed when they committed their alleged crimes. Several were crimes of passion. – by Robert Fisk
http://www.independent.co.uk/news/secret-saudi-executions-shame-the-west-1576699.html
<![if !supportEmptyParas]> <![endif]>
<![if !supportEmptyParas]> <![endif]>