Saudi air raid at the historical center of Sanaa, June 11, 2015, 2 am, part 1
Saudischer Luftschlag auf die historische Altstadt von Sanaa, 11. Juni 2015, 2 Uhr morgens,
Teil 1
Six people were killed. People were digging and searching for survivors  a whole day.
Victims covered under the rubble were calling for help with their cellphones
6 Menschen wurden getötet. Die Suche nach Verschütteten dauerte einen ganzen Tag.
Verschüttete riefen mit ihrem Handy um Hilfe
The city of Sanaa is going back at least to the 1. century AC. The old city of Sanaa certainly is one of the most beautiful cities of the world: a cosmos of centuries old, high and individualy adorned traditional brick houses, an oriental fairy-tale city as there is no other in the world. In 1988, the old city of Sanaa was declared a World Heritage Site by the UNESCO and a restauration program was started. In its integrity, completeness and diversity, Sanaa is only te be compared with cities like Venice, Prague or Rome in Europe. Thus, bombing the old city of Sanaa, only can be compared with bombing Venice, Rome or Prague.
Once again Saudis and Americans (or, let us not be unfair: the leaders) proof to be what they really are: barbarians who neither care for human lifes (as could be widely seen on this website) or for culture. The UNESCO director general, Irina Bokova, clearly has condemned the attack to Sanaa. Anyway, the raid of June 11 already is the second air strike on old Sanaa: On May 11, a Saudi-American air raid had destroyed traditional brick houses, mosques and hammams (bath houses).
Die Stadt Sanaa geht wenisgtens bis auf das 1. Jahrhundert n. Chr. zurück. Die Altstadt von Sanaa ist ohne Zweifel eine der schönsten Städte der Welt: ein Kosmos von jahrhundertealten, hohen und individuell verzierten traditionellen Lehmhäusern, eine orientalische Märchenstadt, wie es keine andere auf der Welt gibt. 1988 hat die UNESCO Sanaa zum Weltkulturerbe erklärt und es wurde ein Restaurierungsprogramm gestartet. In ihrer Vollständigkeit und Vielfalt kann Sanaa in Europa nur mit Städten wie Venedig, Rom oder Prag verglichen werden. Die Altstadt von Sanaa zu bombardieren, das kann nur mit dem Bombardieren von Venedig, Rom oder Prag verglichen werden.
Wieder einmal mehr beweisen Saudis und Amerikaner (oder, seien wir nicht ungerecht: die Führung), was sie wirklich sind: Barbaren, die sich weder um Menschenleben (wie auf dieser Webseite reichlich zu sehen ist) noch um Kultur kümmern. Die Generaldirektorin der UNESCO, Irina Bokova, hat den Angriff auf Sanaa deutlich verurteilt. Auf jeden Fall ist der Luftschlag auf die Altstadt von Sanaa am 11. Juni bereits der zweite: Am 11. Mai zerstörte ein saudisch-amerikanischer Luftschlag traditionelle Lehmhäuser, Moscheen und Hammas (Badehäuser).
The beauty of Sanaa  -  Die Schönheit von Sanaa
<![if !vml]>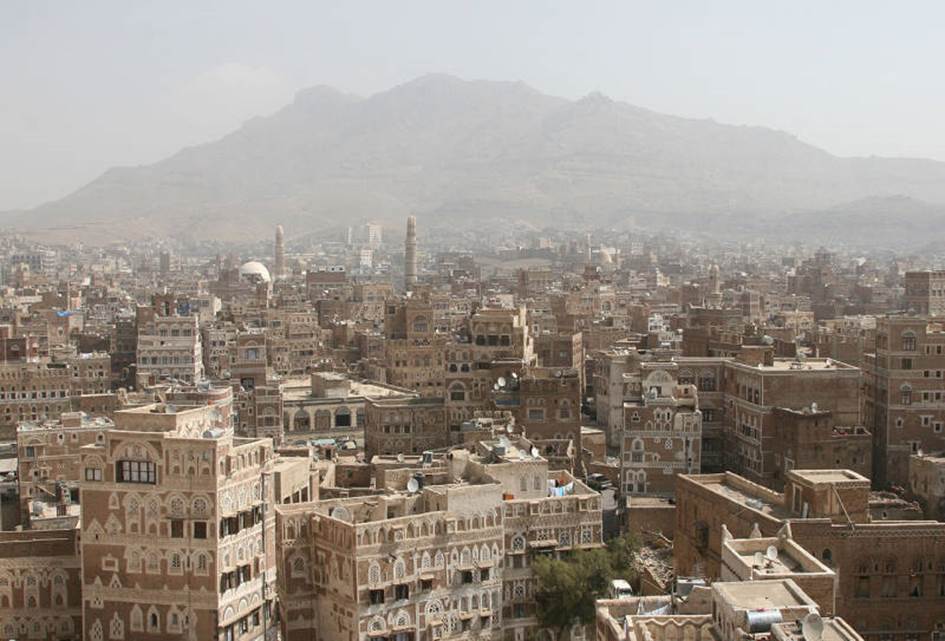 <![endif]>
"Sana" von Ferdinand Reus from Arnhem, Holland - cropped version of Yemen. Lizenziert unter CC BY-SA 2.0 über Wikimedia Commons - https://commons.wikimedia.org/wiki/File:Sana.jpg#/media/File:Sana.jpg
<![if !vml]>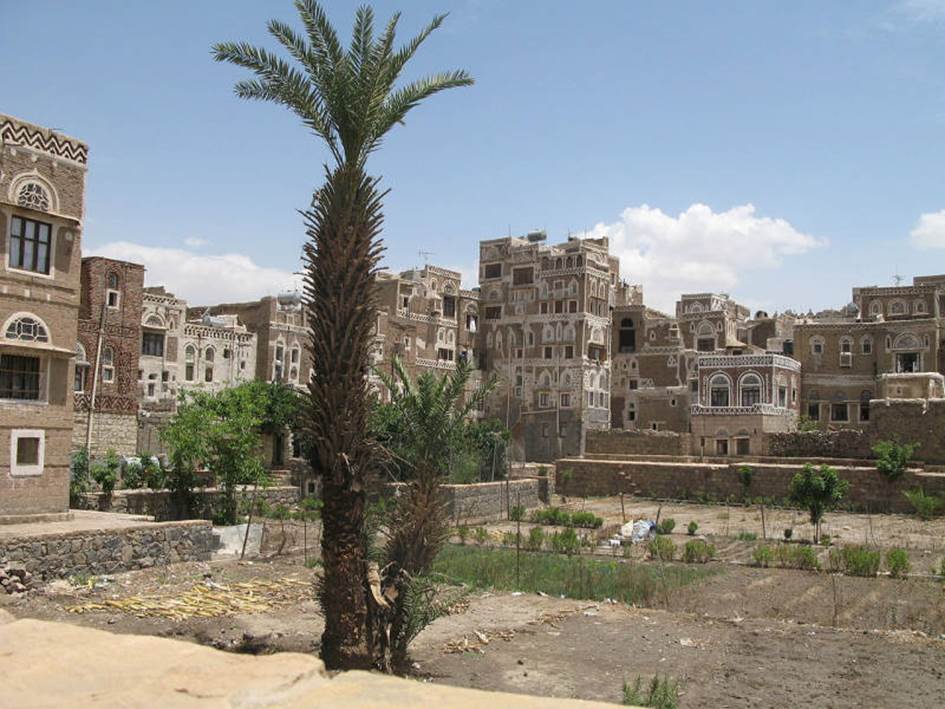 <![endif]>
"396 Sana" von Ljuba brank in der Wikipedia auf Slowenisch - Übertragen aus sl.wikipedia nach Commons. Lizenziert unter CC BY-SA 3.0 über Wikimedia Commons - https://commons.wikimedia.org/wiki/File:396_Sana.jpg#/media/File:396_Sana.jpg
<![if !vml]>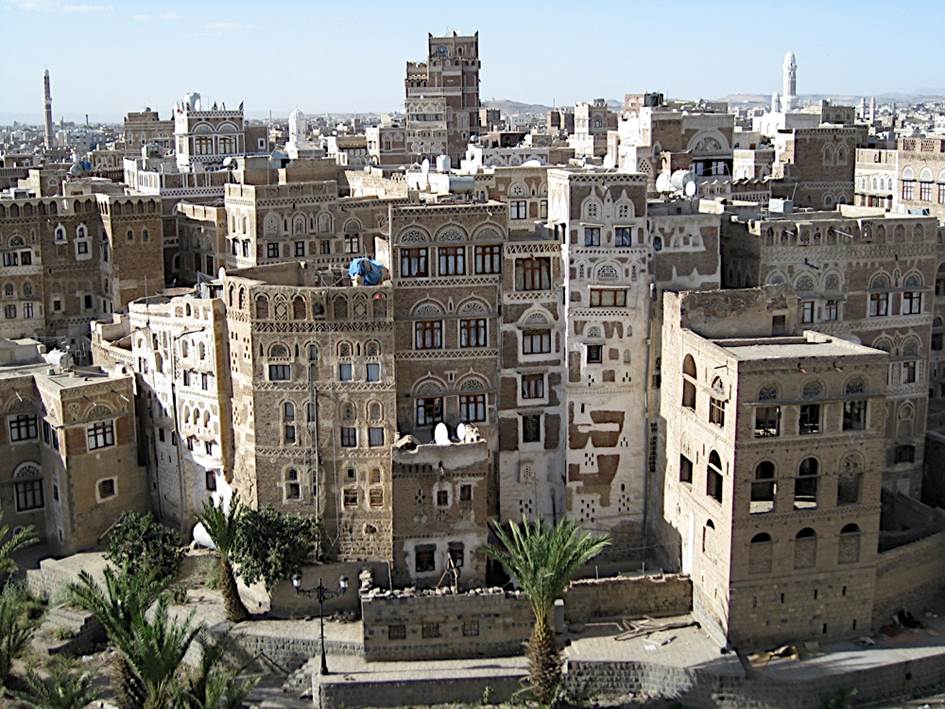 <![endif]>
"OldtownSanaa" von Jtamad - Eigenes Werk. Lizenziert unter CC-BY-SA 4.0 über Wikimedia Commons - https://commons.wikimedia.org/wiki/File:OldtownSanaa.JPG#/media/File:OldtownSanaa.JPG
<![if !vml]>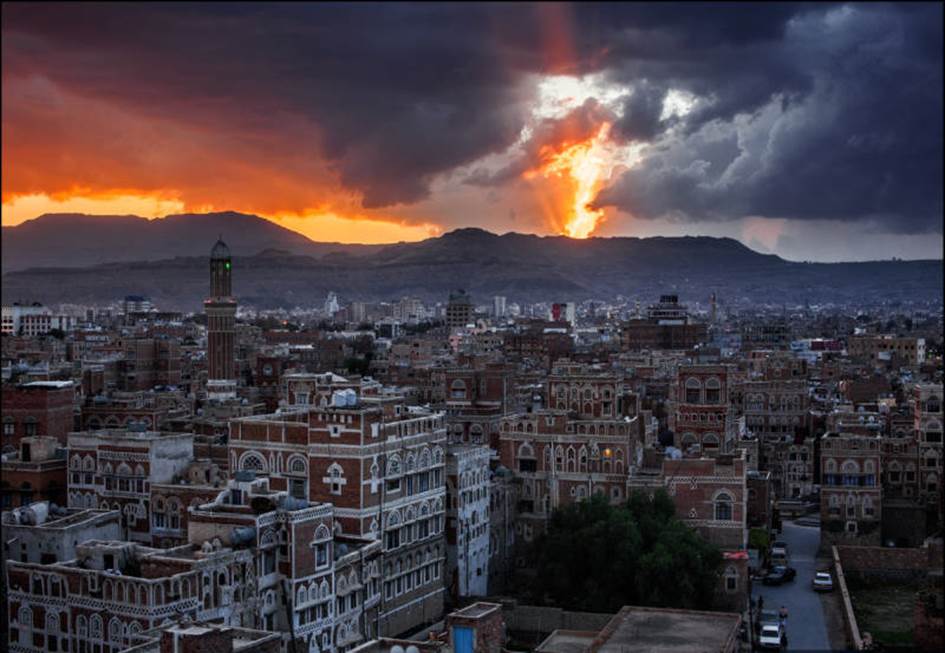 <![endif]>
This is a sunrise morning in 2013 – no attack in 2015  –  Das ist ein Sonnenaufgang 2013 – kein Angriff 2015
"Gallery 1 23 6059" von Mb-world - Eigenes Werk. Lizenziert unter CC BY-SA 3.0 über Wikimedia Commons - https://commons.wikimedia.org/wiki/File:Gallery_1_23_6059.jpg#/media/File:Gallery_1_23_6059.jpg
<![if !vml]>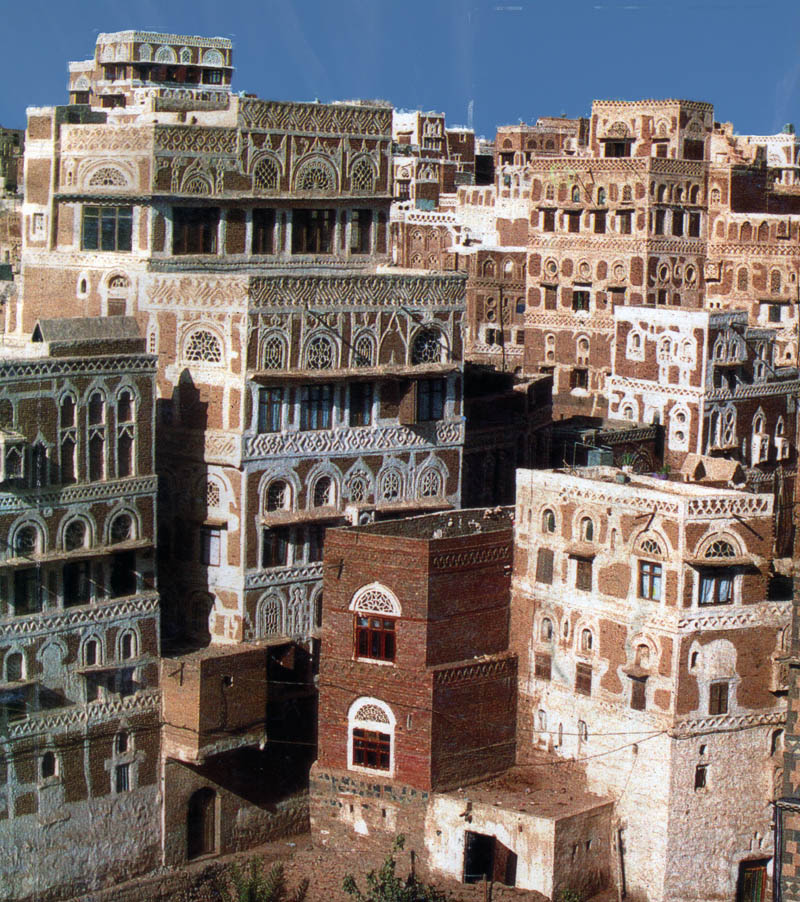 <![endif]>
"Sana'a" von I, Tyabji. Lizenziert unter CC BY-SA 3.0 über Wikimedia Commons - https://commons.wikimedia.org/wiki/File:Sana%27a.jpg#/media/File:Sana%27a.jpg
After the raid: Digging for survivors and victims  –  Nach dem Luftschlag: Suche nach Überlebenden und Toten
<![if !vml]>
<![endif]>
https://twitter.com/zaidbenjamin/status/609219495954128896 = https://twitter.com/XYemenia/status/609167246896672768 = https://twitter.com/salaahezzi/status/609167295714193408
<![if !vml]>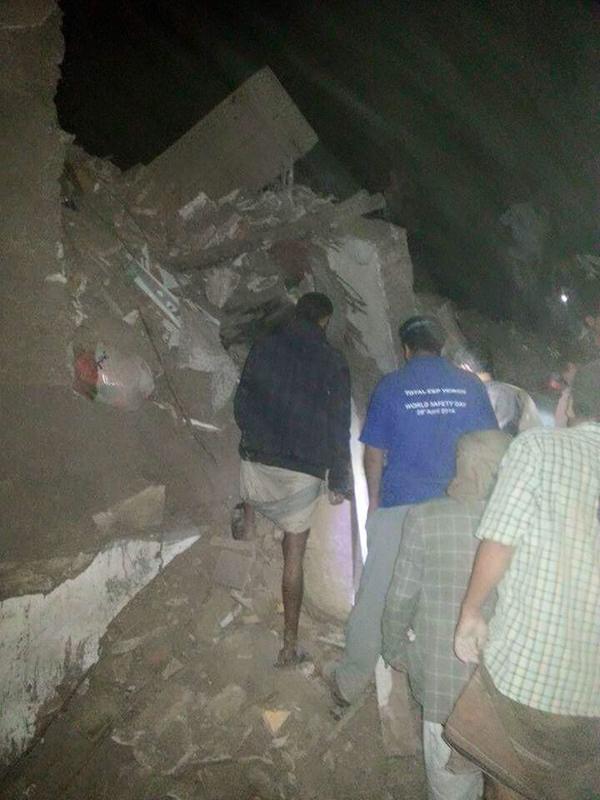 <![endif]>
https://twitter.com/zaidbenjamin/status/609219495954128896 = https://twitter.com/salaahezzi/status/609164188619923456 = https://twitter.com/hamedalbukhiti/status/609151055646060544
<![if !vml]>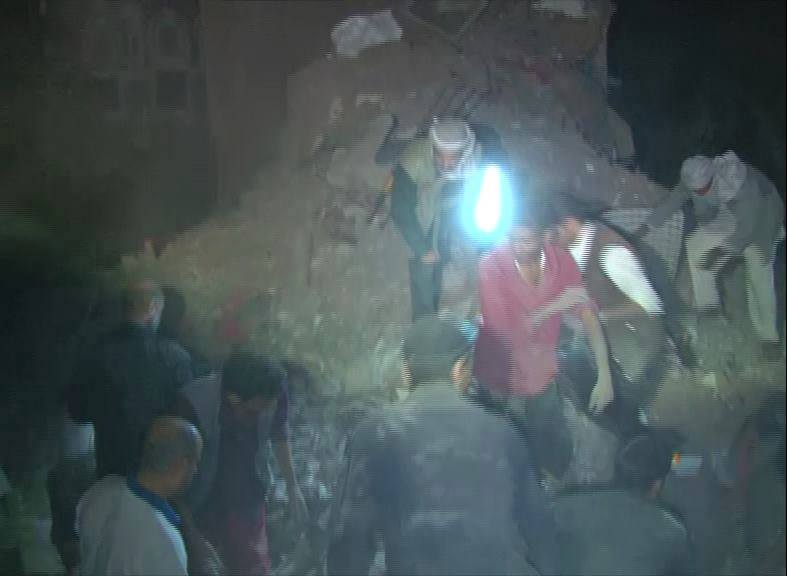 <![endif]>
https://www.facebook.com/Media.Front1234/posts/1498118660410503
<![if !vml]>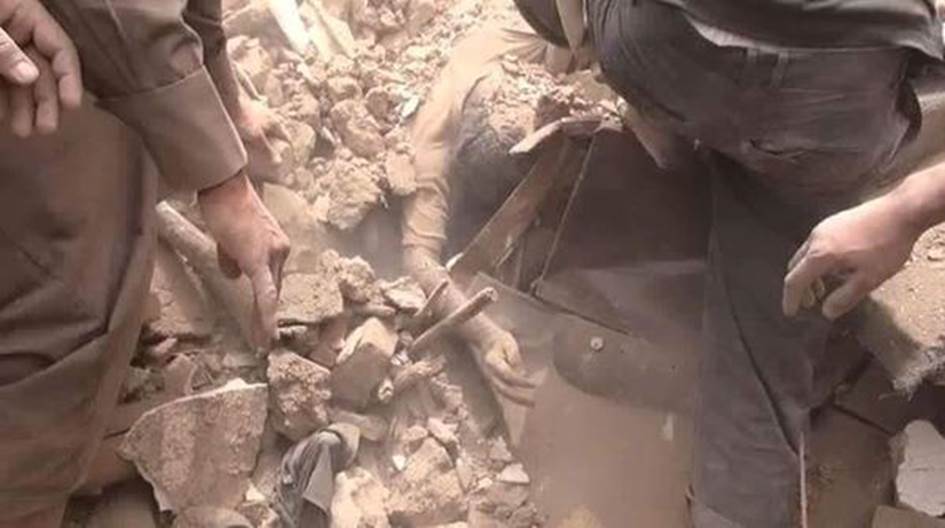 <![endif]>
https://twitter.com/YemenPostNews/status/609390377154449409 = https://twitter.com/HussainBukhaiti/status/609377878770212864 = https://twitter.com/Fatikr/status/609364009079275520 = https://twitter.com/salaahezzi/status/609360144665743360
<![if !vml]>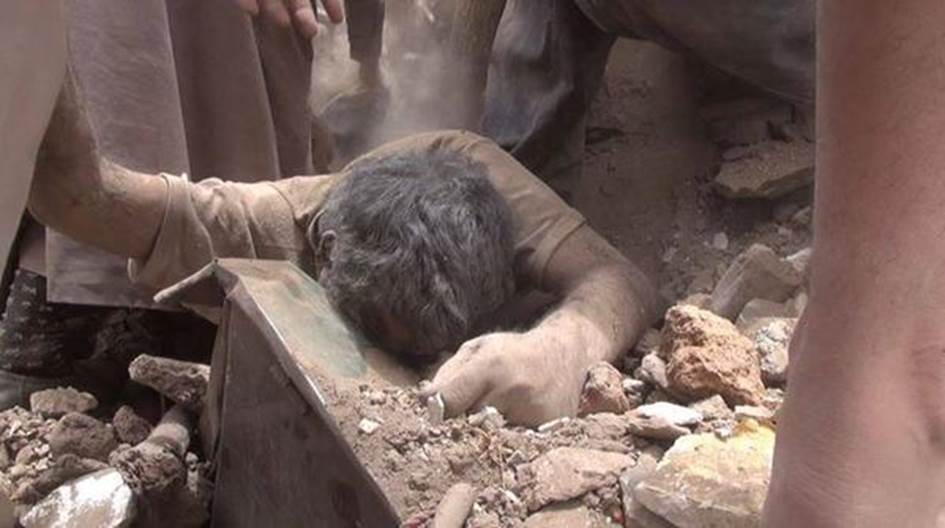 <![endif]>
https://twitter.com/YemenPostNews/status/609403712755208192 = https://twitter.com/YemenPostNews/status/609390377154449409 = https://twitter.com/Fatikr/status/609364009079275520 = https://twitter.com/salaahezzi/status/609360144665743360
<![if !vml]>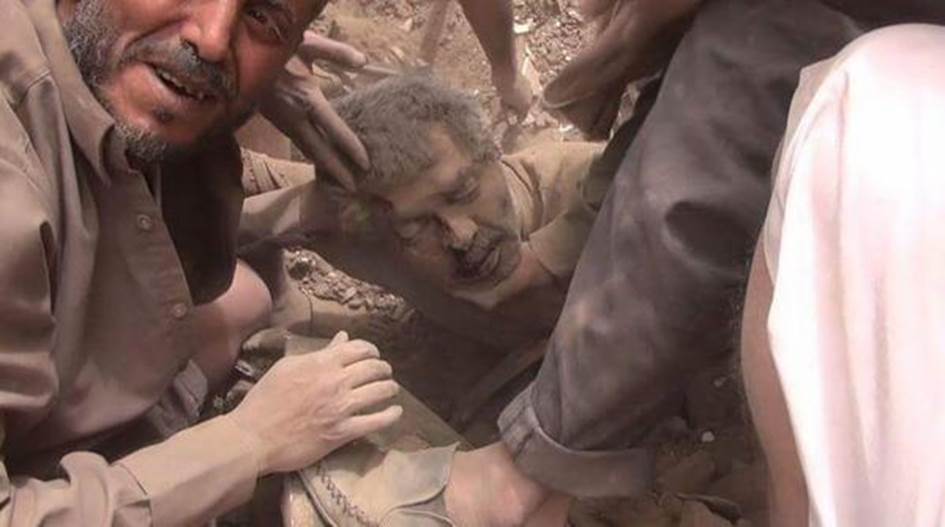 <![endif]>
https://twitter.com/YemenPostNews/status/609390377154449409 = https://twitter.com/HussainBukhaiti/status/609377878770212864 = https://twitter.com/Fatikr/status/609364009079275520 = https://twitter.com/salaahezzi/status/609360144665743360
<![if !vml]>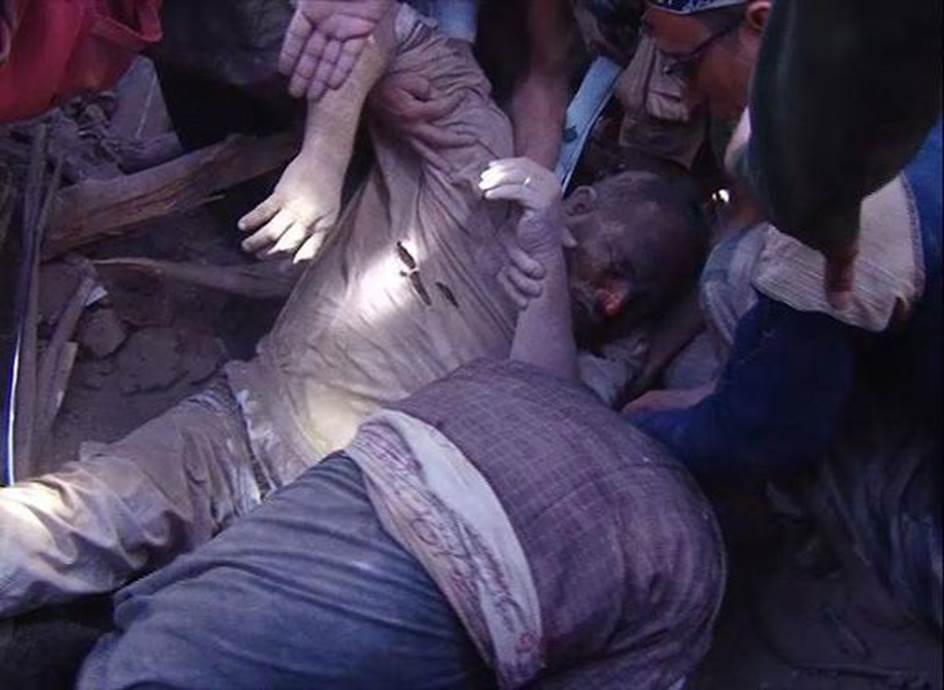 <![endif]>
https://twitter.com/YemenPostNews/status/609403712755208192 = https://twitter.com/YemenPostNews/status/609390377154449409  = https://twitter.com/HussainBukhaiti/status/609377878770212864 = https://twitter.com/narrabyee/status/609749426387562497
<![if !vml]>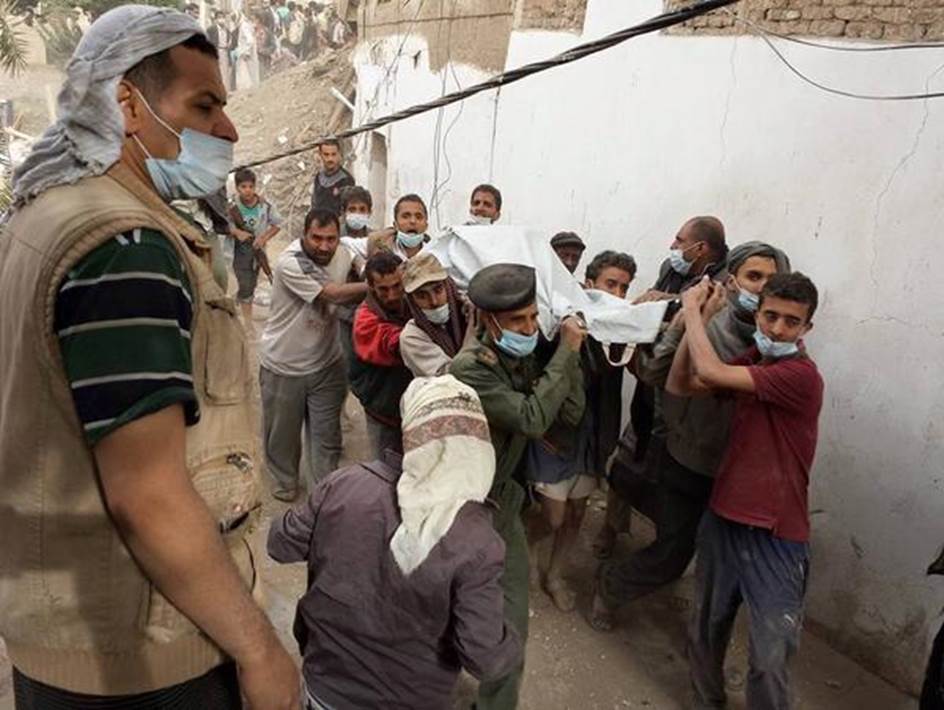 <![endif]>
https://twitter.com/YemenPostNews/status/609403712755208192
More photos of searching for survivers and killed see:
Weitere Fotos von der Suche nach Überlebenden und Getötete siehe:
http://www.nbcnews.com/news/world/airstrike-yemen-unesco-world-heritage-site-damaged-n374486
http://www.bbc.com/news/world-middle-east-33108113
<![if !vml]>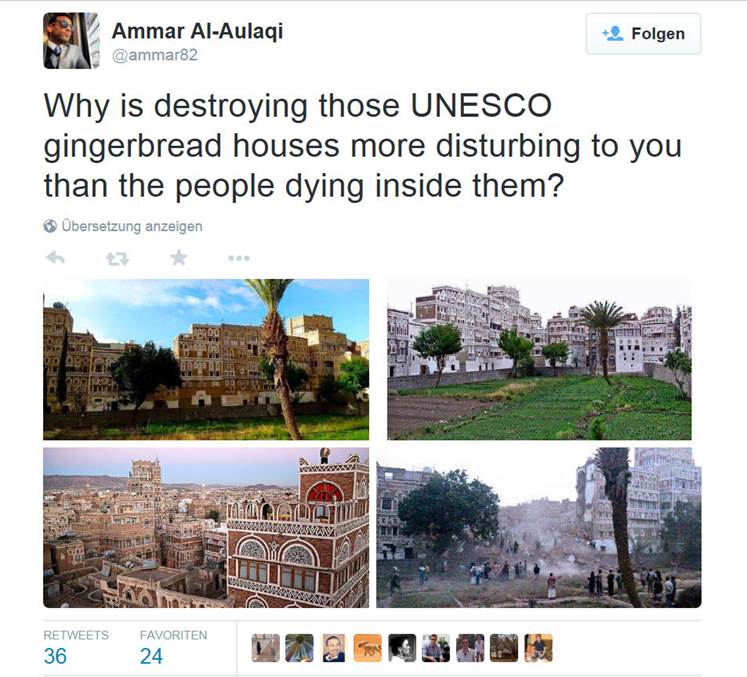 <![endif]>
<![if !vml]>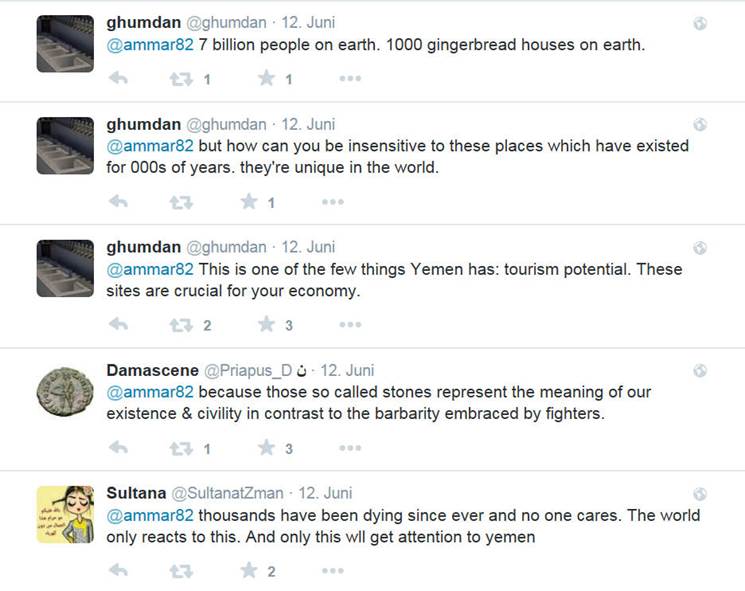 <![endif]>
https://twitter.com/ammar82/status/609407285731799040
Films:
https://twitter.com/alexkpotter/status/609335063663083520
https://www.youtube.com/watch?v=ddjoBaN6OHo
https://www.youtube.com/watch?v=LL3fzW3c-gw
Reports:
BBC: http://www.bbc.com/news/world-middle-east-33108113 (more images / weitere Bilder)
RT: http://rt.com/news/266854-unesco-sanaa-bombing-saudi/
CBS: http://www.cbsnews.com/news/yemen-sanaa-saudi-airstrikes-iran-backed-houthi-rebels/
Guardian: http://www.theguardian.com/world/gallery/2015/jun/12/old-town-of-sanaa-after-airstrikes-and-before-in-pictures (images)
Guardian: http://www.theguardian.com/world/2015/jun/12/air-strike-kills-five-sanaa-old-city-yemen (text)
Zerohedge: http://www.zerohedge.com/news/2015-06-13/saudi-warplanes-destroy-2500-year-old-heritage-site-yemen (mostly images)
International Business Times: http://www.ibtimes.co.uk/yemen-least-five-killed-saudi-led-airstrikes-hit-ancient-sanaa-1505851
NBC News http://www.nbcnews.com/news/world/airstrike-yemen-unesco-world-heritage-site-damaged-n374486 (many images)
Saudi-American air raid at Sanaa, May 11, 2015:
Der Standard: http://derstandard.at/2000015728847/Unesco-beklagt-schwere-Schaeden-an-Jemens-Kulturerbe = http://www.webcitation.org/6Ygog5KXG
UNESCO: http://whc.unesco.org/en/news/1278 = http://www.webcitation.org/6YgrRppBp